Overview
This project was a result of my interest in exploring industrial design in the realm of personal safety and mental health especially the impact of this during COVID-19. I conducted user testing and secondary research to satisfy my goal of creating a product that could support young adults to relief overwhelming work-related stress in a remote working environment.
Timeline
Tools Used
Fusion 360, Photoshop, KeyShot, Figma, Miro
Skills
User research/testing, rapid physical prototyping, storyboarding, sketching, pitch presentation
Problem
What does personal safety mean?
Personal safety can have many meanings, however to me, it manifests as a value for mental and physical health. I wanted to take this value and design something that could protect young adults from mental stress from work. With this idea in mind, I started by determining the specific focus where I could explore.
Interviews & surveys to understand current needs
I sent out a survey to my target audience: young adults, specifically college students, from various majors to gain more insight into what is the most significant mental health obstacle students are having and when this happens.
Research

​
How to relieve mental stress working from home in young adults
With my survey results, it was clear that most students are suffering from mental stress from work related issues. Often times these problems arise when students are working alone in a personal space, and often at night when they are tired. I chose a couple students to interview them more in depth about when these stress points come, what they feel/are thinking, and activities that help them resolve their stress.
​
​
Determining key features in product and purpose with storyboarding and sketching
With more brainstorming, creating moodboards for inspiration, reflecting on the information I had researched, secondary research, I had pinpointed some of the key features I decided were necessary in my product to help relieve mental stress from remote working in young adults.
Prototyping and further development
With a general idea of how the user would interact with my product and the features that the product would have, including aural relief, breathing exercises, and supports meditative movements, I further developed the details of this user interaction with testing prototypes in real life and more secondary research.
Prototyping

​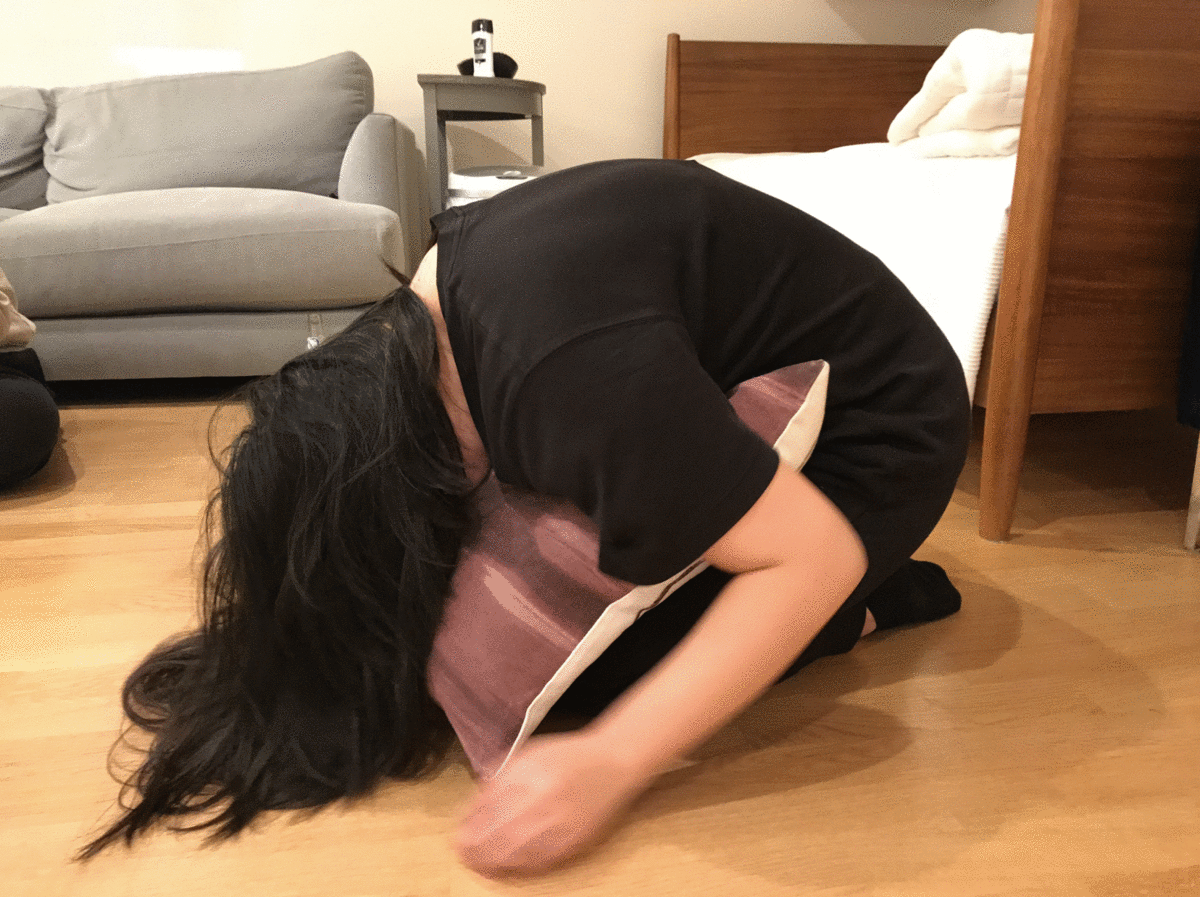 Product branding
I chose to look at Ostrichpillow to design my product around because I aligned with this brand's values towards mental health of how they hope to provide "micromoments of Self-care [to] contribute to long-term wellbeing."
Expanded system with controls
I started with exploring how I could embody all my features, such as modifying heat, changing sound, and volume into a physical control on the back of Esso. It would be placed on the bottom area in the back so that users can reach the control whole hugging the product but also not have it in the way when you wrap your hands around it.
Companion app for further personalization
I decided to keep the physical controls more simple and only the necessary functions or else it would be too complex to use (seen in the above images). To further adjust the settings, play one's personal music, connect with friends, take notes on stress and more, the user would use the app to do so.
Final Product