An Alzheimer's Care Product Design System
​
​
​
Overview
Timeline
Spot & Cara is a two-part Alzheimer's Care product systems that facilitates communication, encourages activities and documents care for both the caregiver and care-recipient.
​
​
Part 1: Low Tech Solution
The first part of this project was to built a product solution using minimal technology. My solution for this was the ActiCare System, consisting of Spot, the timer toy, and a portable activity journal.
​
​
​
​
Part 2: High Tech Solution
The second part was to use the same problem space and built a high technology solution. This became Spot & Cara.
​
Tools Used
Premier Pro, SolidWorks, KeyShot, Illustrator, Photoshop, Figma, Miro
Skills
User research/testing, rapid physical prototyping, storyboarding, sketching, pitch presentation
PART 1: Research
Focusing on a research problem
Full research process
​
​
Establishing Project Problem Statement
From my research, I discovered that problems that caregivers and care-recipients may face are 1) disconnects in communication especially in regards to time due to how care-recipients often lose the ability to understand time. 2) Inactivity together and for the care-recipient due to how busy caretakers are and are not able to accompany them all the time. 3) It is important but also difficult to document the disease progression and any behavioral changes to inform a physician.
PART 1: Prototyping & Testing
Low Tech Prototyping & Testing
In my early development, I wanted to design a product system that could be easily identifiable for someone living with Alzheimer's, such as a friendly animal. This was inspired by Bird Tales, a therapeutic Alzheimer's program that use real and toy animals.
PART 1: Solution
LowTech Product Solution
PART 2: HighTech Research
What type of technology could compliment this problem space?
Modifying my problem statement
PART 2: Prototyping & Development
Connecting the product to a larger scale
PART 2: HighTech Final Product
​
​
​
​
​
​
​
​
​
​
​
​
​
​
​
​
​
​
​
​
​
​
​
​
​
​
​
​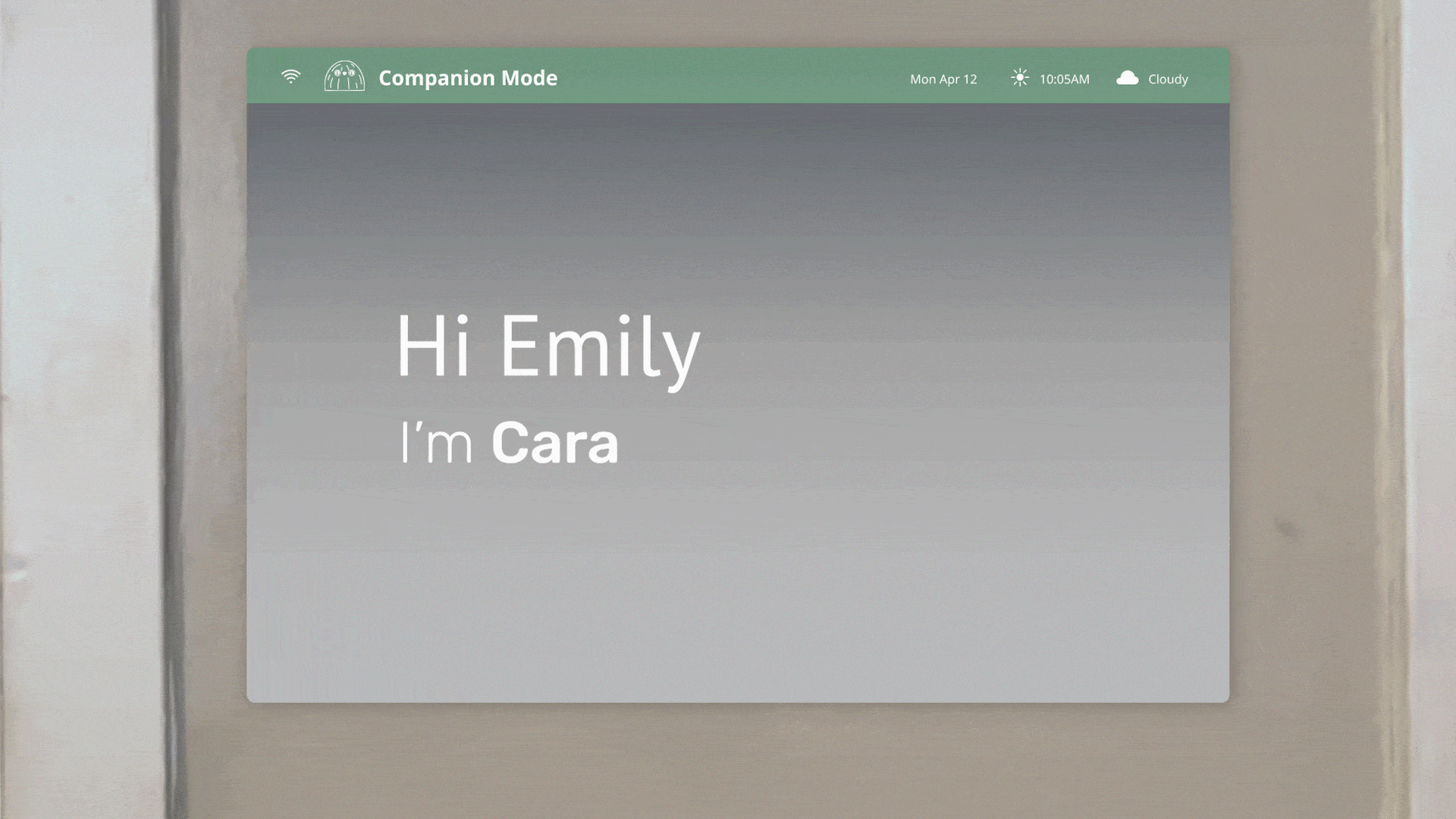 Both Spot & Cara establish a sense of trust and familiarity by conversing with the user
Spot & Cara work together to alert people sharing a space of daily activities and other important reminders
During an activity, a progression bar will tell the user where they are during the process and will notify that they have completed a step
Both products can also show others around the house that an important call is taking place